gitaplus is a cargo-carrying, following robot designed and built with pedestrian etiquette and simplicity in mind.
Overview
The overall form of gitaplus expresses its direction and movement. Its rounded shape is nimble when moving past and around people. Its spherical shape expresses its ability to spin in place. Despite its roundness, it has direction with a distinct front, back and sides. The front of the robot has a sensor array with prominent lenses oriented forward to indicate the field of view that gitaplus uses to sense the user.
Its two motors drive the right and left wheels at different speeds and directions and allow a zero turning radius; it leans forward before it takes off and leans back before it stops. Self-balancing capability and its large wheels are what gives gitaplus the ability to move quickly and efficiently enough to keep up with people.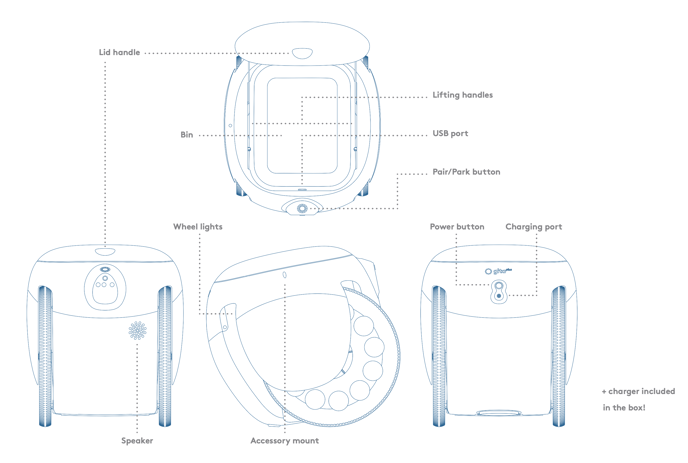 Panels
gitaplus's exterior panels are constructed from a PC/ASA (polycarbonate/ acrylic-styrene-acrylate) providing excellent durability and protection against the elements. The plastic body is resilient but deformable and makes it smooth and safe to be around.
Wheels
The individually driven molded plastic wheels use tires constructed from materials commonly found in the soles of sneakers to cushion the ride and protect the contents inside the cargo bin.
Lights/Sounds
Varying colored lights communicate the robot's different modes. In combination with custom-designed sounds, gitaplus communicates with users and bystanders in a simple and straightforward way.
Front Sensors
gitaplus's front sensors consist of two types of cameras. With these cameras, gitaplus can detect different shapes, sizes and colors. This allows gitaplus to better "lock on" to its leader, and to track them farther to the sides than the stereo pair can alone. gitaplus is also equipped with radar to assist with conditions of bright light and extend the camera's field of view.
Specifications
Dimensions L x W x H 27 x 22.4 x 24 inches
Cargo space 4000 in3
Payload 40 lb
Weight 50 lb
Top speed 6 mph
Operating temperature 10–110 OF
Battery technology Lithium-Ion
Estimated distance up to 18 miles
Charge time approximately 2 hours
Battery charger 100–240 volt 2.5 amp 200 watt
Phone charging port 5V / 2A
Wi-Fi 2.4 GHz / 5 GHz
Bluetooth® wireless technology Class 1
Note: Run time, travel distance and charging time may vary depending on usage and environment.